Sehri Dua Arabic with Urdu Translation
Sehri dua is recited at sehri time when you finish your sehri meal. Dua for sehri. Recite this dua of sehri.
Roza ki niyyat ye ha:
وَبِصَوْمِ غَدٍ نَّوَيْتُ مِنْ شَهْرِ رَمَضَانَ
Sehri is a Sunnah of Prophet Muhammad PBUH. Prophet Muhammad PBUH said that,
Take a meal a little before dawn, for there is a blessing in taking a meal at that time.

Sahih Musmlim Book 6, 2412
Sehri Dua English
And I Intend to keep the fast for month of Ramadan.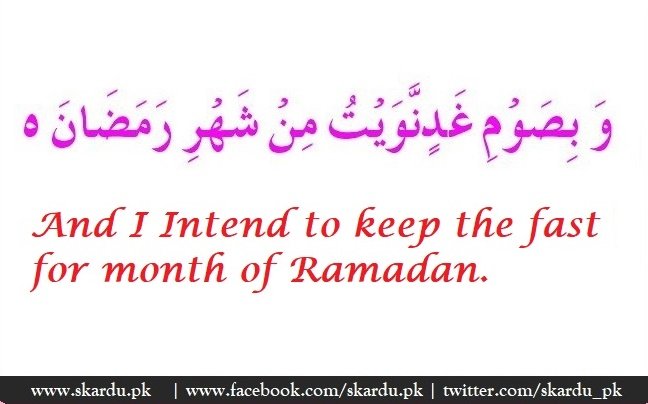 Sehri ki Dua Hindi Urdu
Aor ma na Ramzan k roza ki niyyat ki.
More Ramdan Duas
Iftar Dua | Prayer before breaking your fast at Iftar time
Sahar o Iftar Timing
For Sehri and Iftar Time click here https://www.skardu.pk/islam/timings/ramadan-timings.php
(Visited 6 times, 1 visits today)