Surprise Trip To Gilgit Baltistan
Thinking of planning your Vacations to Gilgit Baltistan with Natives?
Let's Plan a Separate Custom tour with your Family – Colleagues – Friends – Couples(Honeymoon), all according to your desired dates, with suitable budgets,places and accomodation to your favorite destinations with us.
Being the Natives of GB, we are undoubtedly the one stop solution for all of your travel needs. when you choose to travel with us, you can spend all your time having endless fun, and leave the rest to us. As we are there at the every step you take.
If you are foreigners and looking for trekking, expeditions and other packages kindly Contact us through this form. 
Procedure to Book The Surprise Trip
You have call us and tell your budget on 0355-5616855 or 03129907808 to book your trip. The minimum budget must be 120,000 Rs and minimum member in group must be 2 and Maximum 150.   
Trip Packages 
Family Tours
Student Tours
Corporate Tours
Cultural Exchange Tours
Honeymoon Tours
What facilities will you get? 
Depends on your budget you will get basic to luxury facilities. 
Basic Services 
Services depend on your budget. The more you increase your budget you will get luxury services.Basic services include: 
Breakfast
Jeep rent to all places
Accommodation. 
Guide services (Local Guides)
Food.
Road tolls
Pick and drop from Islamabad. 
Places to Visit
Depends on your budget. But Skardu will be covered in basic package. The more you increase your budget , the more places will be covered.  
Trip Duration 
Depends on your budget.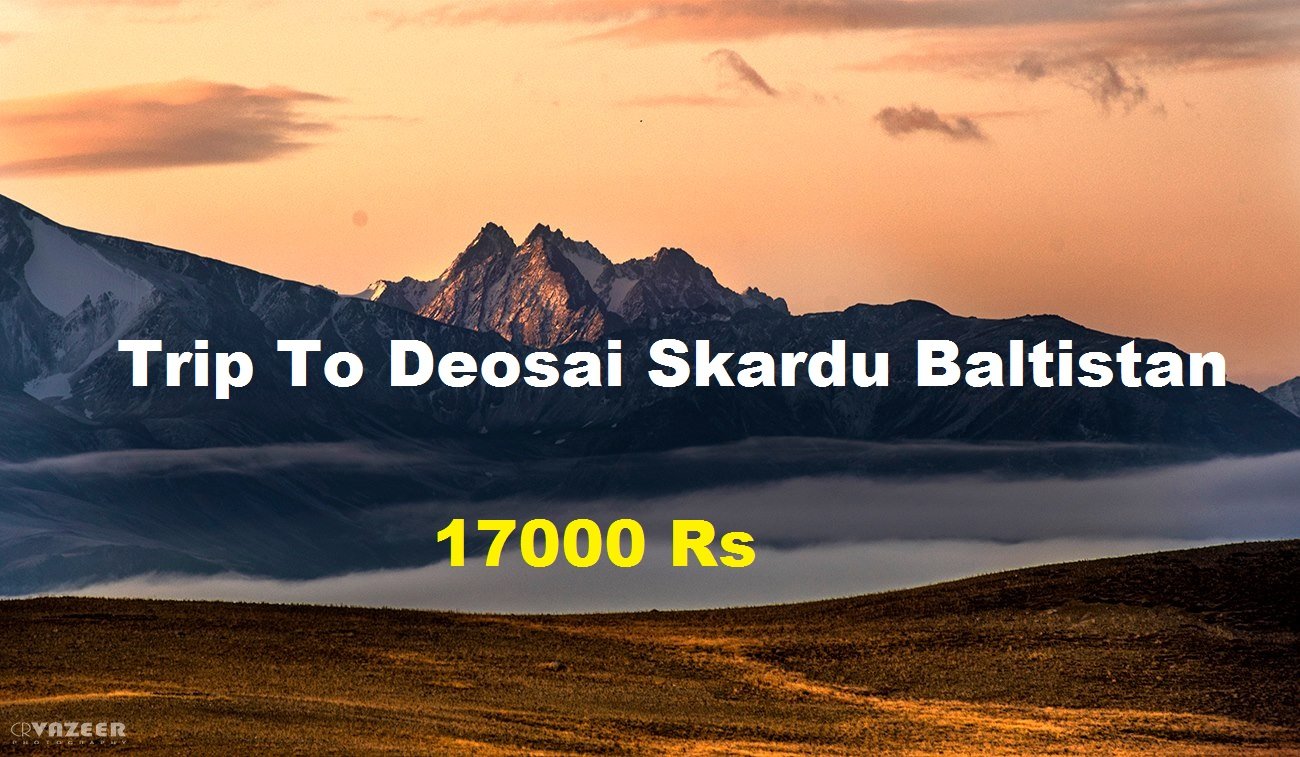 Payment Methods
Bank:
Bank Branch: Habib Bank Limited Skardu Yadgar Chowk 
Account Number: 04767900522103 
Account Title: Abid Hussain 
Jazz Cash:
Number: 0305-1325668
Account holder: Tahir Hussain  
How to Book ?
Deposit 15000 Rs (non refundable) via bank, atm or Jazz Cash to above given accounts to confirm your trip. Payment method is given above. 
Book your custom trip 3-5 days prior to your departure. 
After paying 15000 Rs, call us on 03129907808 or fill this Deposit Confirmation form Confirm Your Payment
After filling above form you will be informed about your trip booking status and details of services and facilities will be provided as per your budget.
You have to deposit remaining payment at the place of departure before starting the trip. 
CANCELLATION & REFUND POLICY:
You have to pay 15000 Rs before starting the trip. 15,000 Rs is not a registration fee. Let's make it simple: For example if you want to book honeymoon trip(90,000 Package) then you have to pay 15000 before and 85,000 later. In case you cancel the trip ,15000 Rs will not be refunded.
For more information please call 0355-5616855 or whatsapp at 03129907808
Please fill the form below and submit
If there is an issue in submitting the form then call us on 0355-5616855 or 03129907808