The Pakistan International Airline PIA's first-ever direct flight from Lahore to Skardu landed at Skardu Airport carrying 153 passengers.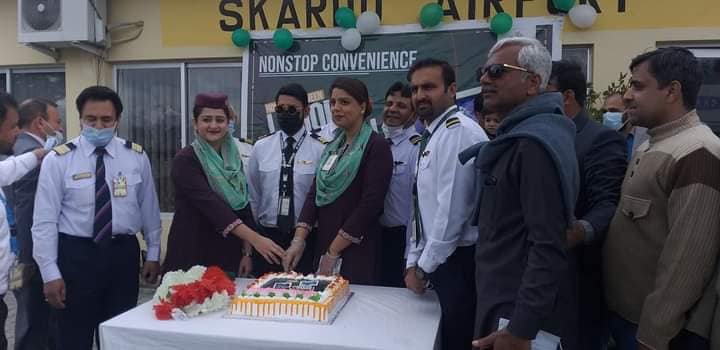 A cake was also cut on the occasion of the inauguration flight from Lahore to Skardu.
Last week PIA had announced to start a flight from Lahore to Skardu. Today, the national carrier achieved another milestone by connecting Lahore with Skardu Gilgit Baltistan. The first flight landed safely at Skardu airport by carrying tourists and others from Lahore. According to PIA, there will be two weekly flights between Lahore and Skardu to promote tourism. One-way fare from Lahore to Skardu has been set to 7500 Rs by PIA.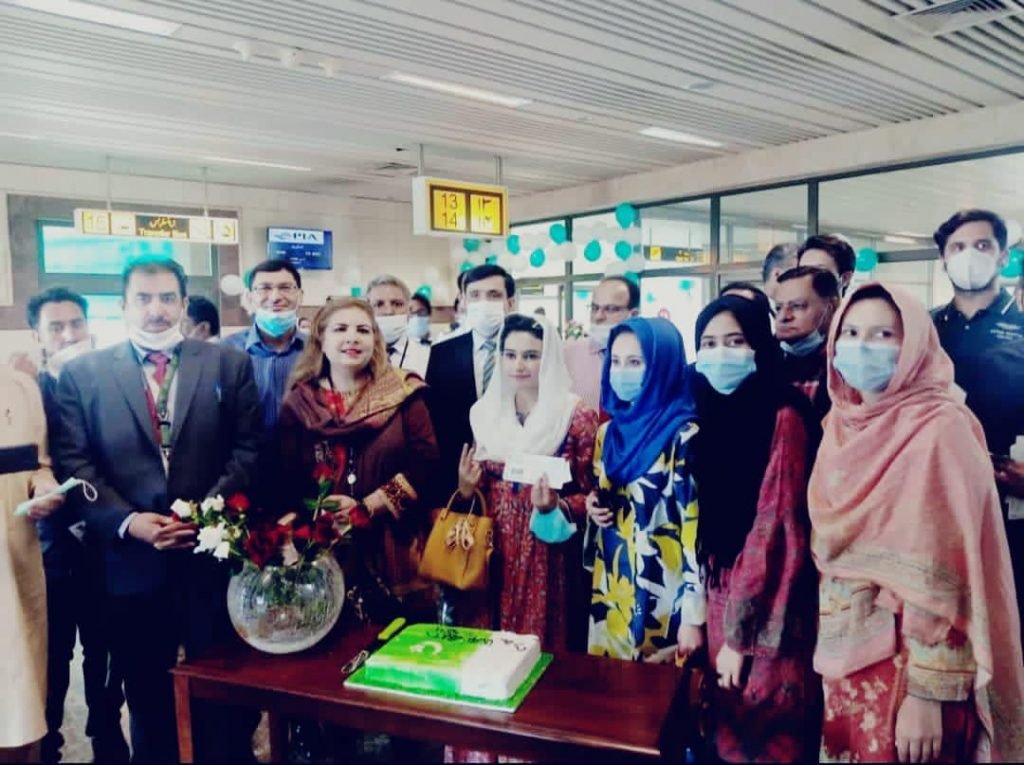 Last month Special Assistant to Prime minister Syed Zulfi Bukhari announced to start an international flight from Skardu airport.
The Pakistan International Airlines also resumed flight operation at Saidu Sahrif Airport Swat after 17 years. The PIA spokesperson said that the national carrier are performing their best to promote tourism in Pakistan.
Also Read PIA reduces fares from Islamabad to Skardu and Gilgit
Skardu city is the capital of tourism in Gilgit Baltistan. 4 of the world's 8000 meters highest mountains are located in the Karakoram range in the Baltistan region. From Skardu, tourists can easily travel to other places of Gilgit Baltistan including Baltoro K2 basecamp, Deosai, Shigar, Hushe valley, Khaplu, Minimarg, Qamri, Rattu, Rupal face Nanga Parbat, Rama Meadows Astore valley, and Fairy Meadows. Furthermore, with the completion of the Jaglote-Skardu road project, tourists can easily travel to Naltar valley, Hunza valley, Nagar valley, Rakaposhi basecamp, Karombar lake, Phander valley Ghizer, and other tourist places of the Gilgit region. After the completion of the jaglote-Skardu road, it will take 4 hours to reach Gilgit from Skardu.
Also Read, Top Places to Visit in Skardu