Hunza: His Highness Shah Karim al-Husayni, the Agha Khan arrived in Hunza as part of his diamond jubilee visit to Pakistan. He arrived Hunza after concluding his Yasin and Chitral visits.  Chief Minister Gilgit Baltistan Hafiz Hafeez Ur Rehman, cabinet members and other officials received His Highness Prince Karim Agha Khan in Gilgit Airport.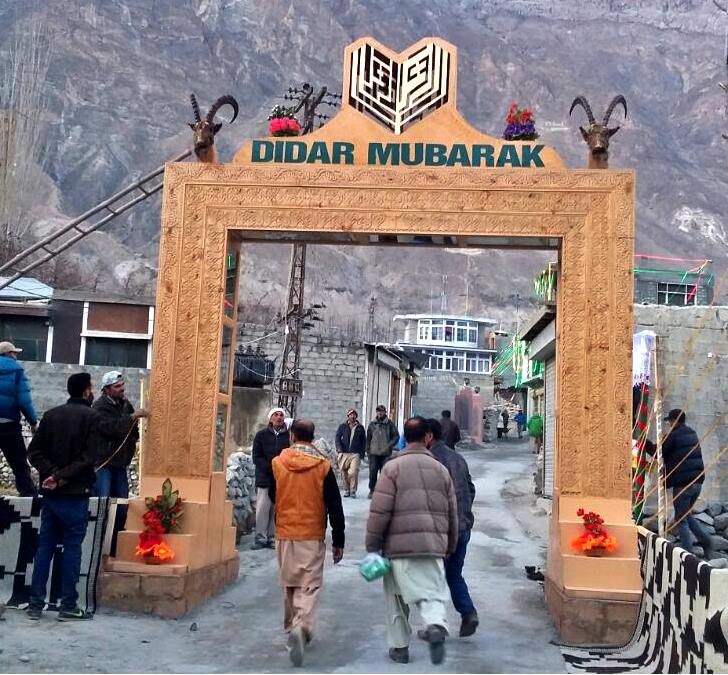 The Diamond Jubilee marks 60 years of his Imamat as the Spiritual Leader of the Shia Ismaili Muslim community. Meanwhile the security forces are deployed in the region. GB scouts and GB police are deployed on different places.
This is an important day for Ismaili community as they will get a chance to see their spiritual leader. Majority of the people of Hunza valley are the followers of Nizari Ismaili. Prince Karim Agha Khan IV, is the 49th Imam of Shia Nizari Ismaili community.  He held the position of Imam (the spirtitual leader according to Ismaili) as Agh Khan Khan IV, since 11 July 1957. At that time he was 20 years old , he succeeded his grandfather, Sir Sultan Muhammad Shah Aga Khan III. Ismailis believed that the Agha Khan is a direct descendant of Al considered the first Imam in Shia Islam, and Ali's wife Fatima. Ismailis are a sub sect of Shia Muslim.
Prince Karim Agha Khan launched social and economic development projects from 11 July 1982 to 11 July 1983 . These range from the establishment of the US$450 million international Agha Khan University Hospital with its Faculty of Health Sciences and teaching hospital based in Karachi. In Gilgi Baltistan many new projects were initiated which includes irrigation channels, establishment of schools and colleges and the expansion of schools for girls in the Hunza region (that is densely populated with Nizari Ismailis). The Agha Khan Rural Support Programme (AKRSP ) is still an active NGO in Gilgit Baltisan and Chitral in Northern Pakistan.