7 Billion Rs Allocated for Skardu Road Improvement and Widening
Rs 7 billion is allocated for improvement and widening of Jaglote-Skardu Road S-1
SKARDU Rs 7 billion is allocated for improvement and widening of Jaglote-Skardu Road S-1 in Federal PSDP 2017 an official from ministry of communication told Skardu.pk on Thursday. According to official source, recently standing committee constituted a 4 members sub committee under Mr. Sarzameen Khan, a member national assembly from Kohistan for monitoring the progress on Skardu Road S-1 and alternate routes to Gilgit and Skardu. Notification of sub committee will be issued in a week. The 20 member standing committee last year visited Karakoram Highway up to Sust to know the real situation and had given its recommendations which also included alternate routes to Gilgit and Skardu.
To know more about PSDP projects visit official website of Planning Commission of Pakistan http://pc.gov.pk/web/psdp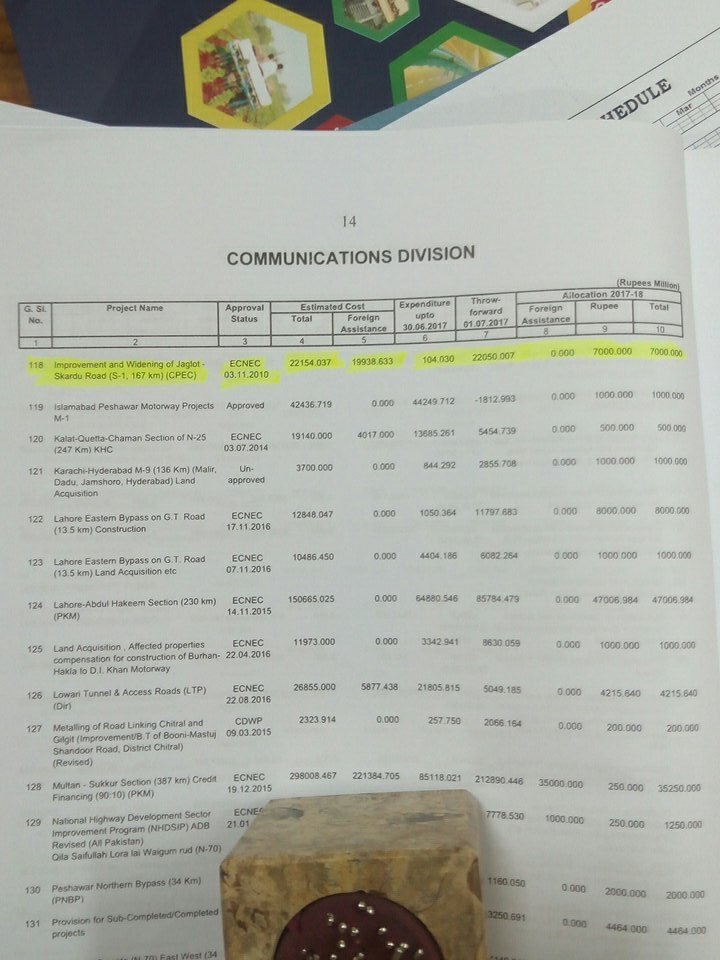 Prior to this there were no funds allocated in Budget 2017. Opposition and civil society took it on different forums. Now its clear that funds is allocated for Skardu Road in PSDP. The estimated cost of Jaglote-Skardu Road S-1 is 22 billion Rs. Total length of road is 167 Km. It will be completed in 3 years. Skardu road project is 7 years old. It was approved by ECNEC in 2010 but retendered  in 2016.
Salient Features of proposed Skardu Highway S-1 according to National Highway Authority:
Total length  167 Km (155Km)
Bituminous pavement width  3.66m
Formation width  6.7 m
Design Speed  30 Km per hour
Max grade 9% approximate
No of bridges 20
No of culverts 150
No of causeways 58
In June 2017 Prime Minister orders FWO to start work on Skardu road in one week.