K2

K2 is located in Karakoram mountain range in Baltistan Pakistan . It is 8611 m or 28251 ft high. It is second highest peak in the world. For most climber it is more difficult to climb than Mount Everest. It can be accessed from China and Pakistan. In Pakistan it can be accessed via Askoli Shigar valley while in China it can be accessed via Shaksgam valley.
History and Naming
The name K2 is first used by Thomas Montgomerie during first survey of Karakoram Great Trigonometric Survey of British India. They replaced local names by "K" suffix. They sketched and named two most prominent peaks as K1 and K2 while surveying from Mount Harmukh some 210 Km to the south. While the local Balti people used to call K1 as Masherbrum and K2 as Chhoghori. After few years Masherbrum was used in official documents. But the name K2 struck due to its second ranking in the world. In ancient times Balti people used to travel Kashghar Turkistan (present Xinxiang Yughur Autonomous region in China) via Muztagh pass. This was one of the ancient trade route used by Baltis and Yughurs. Many Baltis settled in Kashghar. Salman Rashid a Pakistani writer has written a book about this route "Apricot Road to China". He went to Kashghar and met few Balti families now settled there. Their forefathers used to travel Baltistan via Muztagh pass. Balti people named several glaciers, peaks and valleys even inside China. They named Biafo glacier ,Chogholisa (Great hunting place), Trango (vertical peak), Gasherbrum (beautiful massif) and so on.
First Attempt 

Martin Convoy reached at K2 base camp with a British team via Concordia Baltoro glacier.  In 1902 first serious attempt was undertaken by  Jules Jacot-Guillarmod Oscar Eckenstein, A, Heinrich Pfannl, Guy Knowles Victor Wessely, and leister Crowley via the Northeast Ridge.  The team reached at 6225 meters after serious attempts.
In 1909 a team led by Duke of the Abruzzi and Prince Luigi Amedeo, reached at 6,250 metres (20,510 ft) on the South East Spur. Now it is known as Abruzzi spur.
How to reach base camp?
A jeep road connects Skardu city with Askoli the last settlement on the way to Baltoro central Karakoram . From Askoli village trekking starts. It takes one week to reach base camp. Trekkers usually like to stay a night at different camping places . There are some special camps which is called 'Parao' in local language.  Porters are required to take your trekking suits, tents and food items. If you are foreign climber or trekker then you need licensed guide and trekking visa. After a long journey you will reach at Concordia the meeting place of Godwin Austin glacier and Baltoro glacier. You can see the first view of K2 from here.
no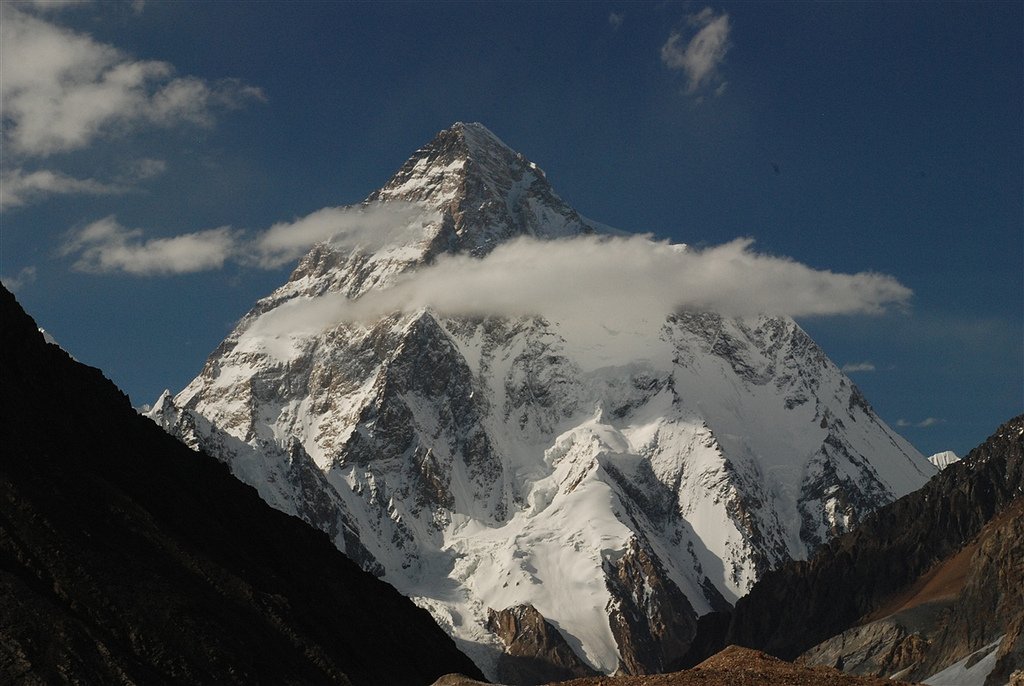 Movies
A lot of documentary and action movies have been filmed about K2. Two super hit holly wood movies "K2" 1991 and "Vertical Limit" 2000 were also filmed . Other movies are: The Summit 2012 , K2 Siren of Himalayas 2012  and K2 and the invisible Footman 2015.