Gilgit Baltistan The home of 5 Highest Mountains
Gilgit Baltistan, with its scenic beauty is the hub of tourism in Pakistan for many travelers and nature lovers due to its world's
highest mountain ranges; The Karakoram range, The Himalayan range and The Hindu Kush range. 18 Of the top 50 highest mountain peaks and 3 of the world's seven longest glaciers are located in Gilgit Baltistan. This Place is known as the famous tourist destination in Pakistan due to epitome of its wilderness, calmness and beauty. Gilgit Baltoistan  is a paradise for trekkers, climbers and hikers. Gilgit Baltistan is known as the home of highest mountains including 5 of the eight-thousander mountains .
These 5 eight thousander highest mountains are:
1. K2
Worlds 2nd highest peak also known as Mount Godwin-Austen is the great asset of
Pakistan. With the Height of 28,250 feet, K2 is located in the extreme north Of Baltistan
near the Baltaro Glacier. K2 is located on Pakistan-China border so it has two entrances
but because of the severe difficulties of the Chinese entrance, K2 is mostly mounted
from the Pakistani side. K2 (1991), Vertical Limit (2000), K2: Siren of the
Himalayas (2012), the Summit (2012) are the films that are based on the
Mountaineering of K2.
Facts:
Height: 8,623 m (28,661 feet)
Ranked: 2nd
Location: Pak-China Border
Mountain Range: Karakoram
First Ascent: 31 July 1954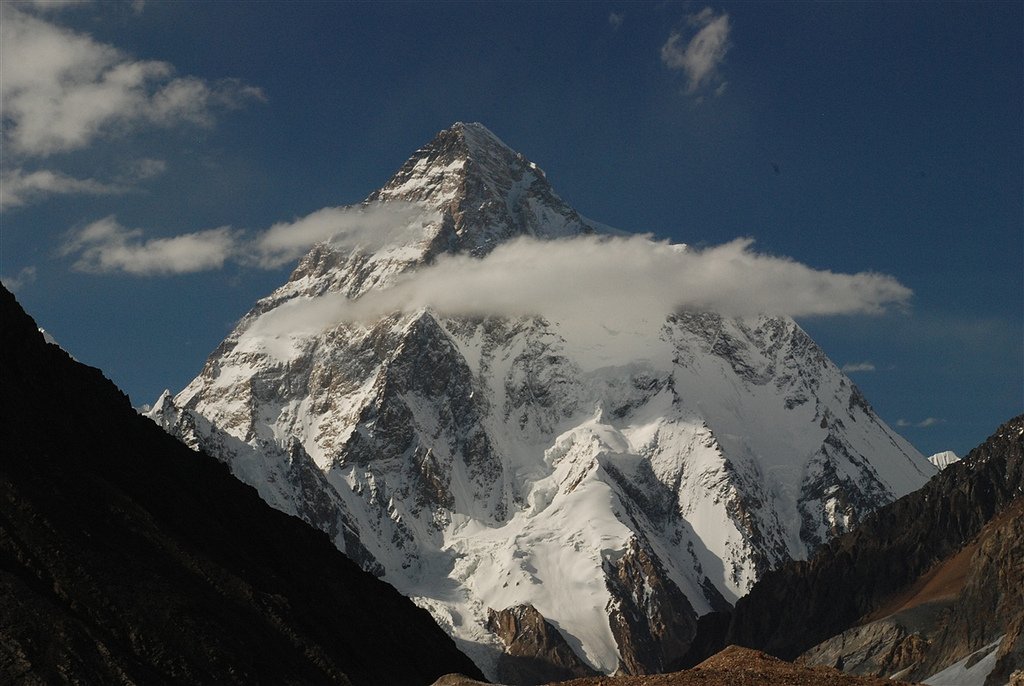 Also Read K2 Chhoghori The King of Karakoram
2. Nanga Parbat
Worlds 9th Highest Mountain is located in the Western Himalayas, surrounded by the great
Indus River. With an elevation of 8,126 meters (26,660ft) and notoriously difficult to
climb, Nanga Parbat is known as the Killer Mountain causing numerous deaths. Nanga
Parbat (2010), The Climb (1986) and Seven Years in Tibet (1997) are the movies that
featured Nanga Parbat.
Facts
Height: 8,126 m (26,660ft)
Ranked: 9th
Location: Western Himalayas, Diamer, Gilgit Baltistan
Mountain Range: Himalayas
First Ascent: July 3, 1953
Easiest Way: Diamir District (West Face)
Check Also Rock Climbing in The Mountains of Karakoram
3. GasherBrum I
World's 11th highest peak, also known as K5, with the height of 26,509 feet, is located on the Pak-China Border, this peak is also known as Hidden Peak.
Facts:
Height: 8,080 m (26,510ft)
Ranked: 11th
Location: Pak-China Border
Mountain Range: Karakoram First Ascent: July 5, 1958
Easiest Way: snow/Ice Climb
4. Broad Peak
Worlds 12th highest peak, with the height of 8,051 metres (26,414 ft.) is located at the Pak China Border. Because of its broad top, it was named as Falchan Brak by the local Balti People. As this peak was scaled first time in 1957, therefore it has low scores of expeditions.
Facts: Height: 8,051 m (26,414 ft.)
Ranked: 12th
Location: Pak-China Border
Mountain Range: Karakoram First Ascent: June 9, 1957
Easiest Way: snow/Ice Climb
5. Gasherbrum II
Worlds 13th highest mountain and 2nd highest Of the Gasherbrum peak, this shining mountain is located on the Pak China Border with the height of 8,035 metres (26,362 ft.). It is also called as K4 (the fourth mountain of Karakoram Range). Facts: Height: 8,035 m (26,362 ft.)
Ranked: 13th
Location: Pak-China Border
Mountain Range: Karakoram
First Ascent: July 7, 1956
Easiest Way: snow/Ice Climb
(Visited 38 times, 1 visits today)