Gilgit Baltistan govt will install chairlift from Sadpara to Deosai
In an interview chief minister Gilgit Baltistan Hafiz Hafeez u Rehman said that Pakistan Airforce PAF has installed ski chairlift at Naltar valley. Government of Gilgit Baltistan aims to install chairlift at Rama Astore , Rakaposhi Hunza Nagar and Sadpara to Deosai in Skardu. Government of Gilgit Baltistan are promoting tourism industry in Gilgit Baltistan.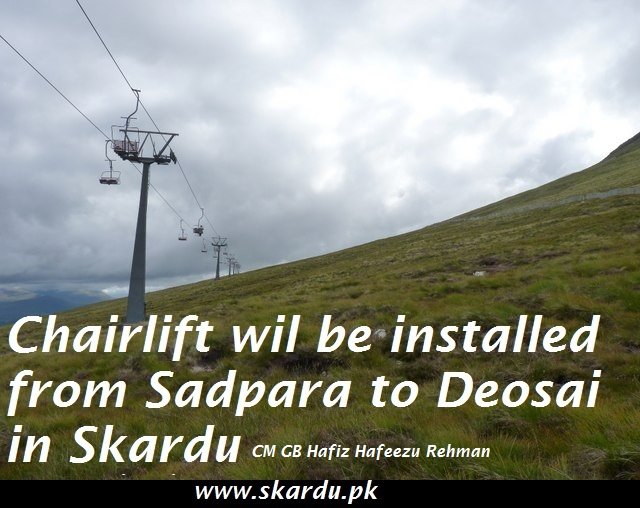 He said that tent villages are being established at 22 different places to facilitate tourists. All rest houses of Gilgit Baltistan will be privatized on annual basis. Chief Minister Gilgit Baltistan said that in order to facilitate tourists government schools will be used as guest houses during summer vacations.  He said that soon work will start on Jaglote Skardu road . He said that government of Gilgit Baltistan will improve infrastructure of the province. Tourists will be facilitated. All roads of valleys will be improved and widen. Hotel industry will be promoted. He said that in order to make visa process easy for foreign tourists Gilgit Baltistan government requested federal govt for visa on arrival . Chief Minister Gilgit Baltistan said that government has started mega projects in Gilgit Baltistan which includes energy sector and infrastructure development. To provide natural gas in Gilgit Baltistan Sui Northern company completed their initial survey . LPG gas plants will be installed in capital towns of districts. This will provide alternate source of fuel and will help in saving natural forests of Gilgit Baltistan. While talking with famous writer Mustanser Hussain Tarar Chief Minister Gilgit Baltistan said that books written by Mustanser Hussain Tarar played an important role in highlighting Gilgit Baltistan's cultures, literature, history,festivals and traditions. Mustansar Hussian Tarar promoted Gilgit Baltistan at national level. Chief Minister Gilgit Baltistan appreciated Mustanser Husian Tarar's work on Gilgit Baltistan. Chief Minister Gilgit Baltistan awarded Mustanser Hussian Tarar an appreciation certificate.  Mustanser Hussain Tarar said that Gilgit Baltistan has vast potential of tourism. Tarar said that he will continue to promote Gilgit Baltistan's culture, history and traditions in his upcoming books. Tarar presented his collections of 15 books to CM GB which is written on Gilgit Baltistan.
Mustansar Hussian Tarar is one of the famous poet, traveler, novelist, TV host, legendary writer and columnist in Pakistan. He belongs to Lahore, Punjab Pakistan. He has written dozens of books on Gilgit Baltistan after traveling different places in Gilgit Baltistan. Mustansar Hussian Tarar has written about places he visit, his experience and culture of that area. Pakistani people visit Gilgit Baltistan after reading his books and travel stories. His books are now a source of information on Gilgit Baltistan. Some topics from his books are now part of text books.  Mustansar Hussian Tarar visited almost all places of Gilgit Baltistan. He visited Deosai, Skardu, Khaplu , Hushe valley, Astore, Nanga Parbat, Hunza valley, Nagar, Concordia, K2 Base Camp, Khunjarab Pass and Kalash Chitral. His famous books are:
Deosai sa Concordia Tak
Shimshaal Bemisaal
Kalash
Karwan Saraye
Safar Shimal kay
Snow Lake
Chitral dastan
Hunza dastan
K2 Kahani
Nanga Parbat Baltistan Dastan
Yalk Saraye
Barfeeli Bulandian