Fairy Meadows
Fairy meadows is a beautiful lush green meadow located in Diamer district of Gilgit Baltistan in front of Nanga Parbat 9th highest peak in the world. Fairy Meadows named by a German climber (German Märchenwiese). In local Shina language Fairy Meadows is known as Joot. At an altitude of 3300 m fairy meadow is used as base camp by climbers to climb Raikot face of Nanga Parbat. Most of the area is densely forested . The north face slope consisting of coniferous forests. The southern slopes consist of junipers forest. Birch trees are also found. Among mammals the Himalayan brown bears ,Musk deer, snow leopard, Himalayan ibex and Markhor are found. Fairy meadow is now a national park under parks and wildlife departments of Gilgit Baltistan government.
Fairy Meadows is one of the best trekking destination in Gilgit Baltistan Pakistan. Every year thousands of Pakistani and foreign climbers , trekkers and hikers visit this place. Nanga Parbat 9th highest peak in the world is located in front of Fairy Meadows. Nanga Parbat is 8126 m high and second highest peak in Pakistan after K2 8611 m. Nanga Parbat is one of the most difficult mountain to climb that's why it is also called killer mountain. It was first climbed by an Austrian climber Hermann Buhl on July 3, 1953.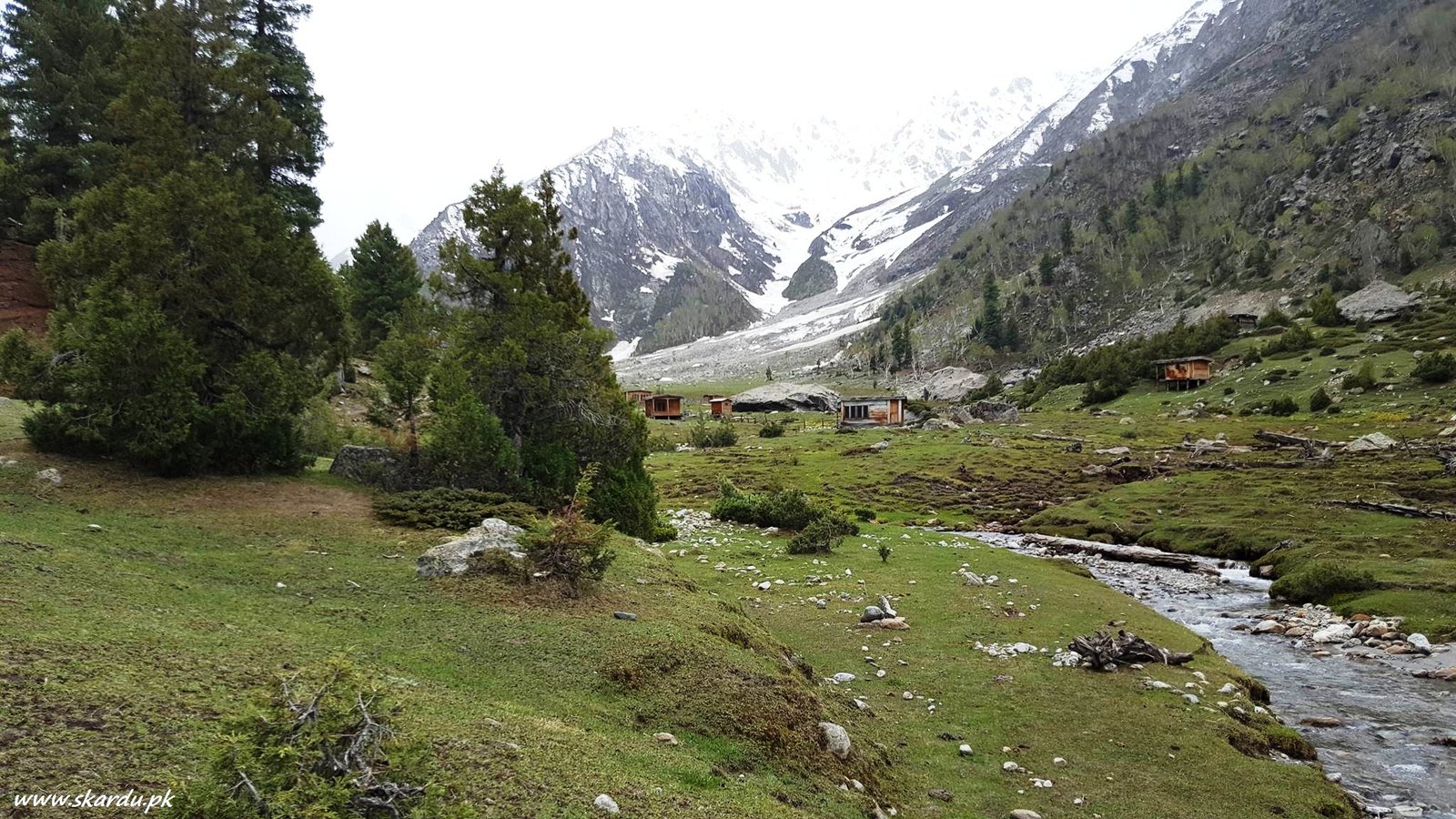 When to Visit Fairy Meadows
Fairy meadow is a perfect place for trekking, hiking and camping. The best season to visit Fairy meadows for trekking is July to August. If  you have trekking experience in high altitude areas then you can also visit this place in winter.
Also Read Hunza Valley The Jewel of Pakistan
How to reach there?
Fairy Meadow is located in district Diamer Gilgit Baltistan. There are three routes to reach Fairy Meadow. It depends on you that which route you would like to choose. But Raikot route is scenic. Here three routes are given:
Route 1 Itineraries
A 12 km long jeep able track starts from Raikot bridge to Tatto village on Karakoram highway. Driving on this track itself is an adventure. Jeeps are available at fairy meadow entry point near Raikot bridge. Here is the itinerary of the track:
Islamabad to Gilgit (By Air)
Gilgit to Raikot bridge
Raikot bridge to Tatto village
Tatto village to Fairy Meadow
Route 2 Itineraries
There are two routes to reach Gilgit Baltistan from Islamabad: via Babusar pass and Karakoram higway. Babusar pass opens on 1st week of July. It is closed from October to June due to heavy snow fall.  Here is the route to reach Fairy Meadow via Babusar pass.
Islamabad to Naran
Naran to Raikot Bridge via Babusar Pass
Raikot bridge to Tatto village
Tatto village to Fairy Meadow
Route 3 Itineraries
If you would like to choose Karakoram Highway to reach Fairy Meadow then check out this route:
Islamabad to Chilas via Besham Karakoram Highway
Chilas to Raikot Bridge
Raikot bridge to Tatto village
Tatto village to Fairy Meadow
(Visited 67 times, 4 visits today)