Tunnels are being constructed on Jaglote-Skardu Road DG FWO
Gilgit Director General FW Leftinent General Muhammad Afzal said that there will be no compromise on the quality of the Gilgit Skardu road S1 Highway. FWO is working more than the contract dealing with the NHA. In briefing the journalists regarding the construction work of Jaglot Skardo Road, Lt Gen Mohammad Afzal said that under the agreement, construction of bridges and road widening is being done. Three units of FWO is busy in working. Four bridges has already been completed, including Alam Bridge, which includes 2 RCC and 2 iron bridges.
After completion of the road construction, the journey from Skardu to Gilgit will be reduced by 2 hours.
He said that environment is not being disturbed in the construction of Gilgit Skardu Road. The plants and trees alongside the highway are being protected. Local contractors and technical and non-technical staff are prefered to work on the road as well as the machinery of locals are using for appropriate rate at priority basis, aiming to benefit more and more to local population. He said that the bridge built on Skardu Road can afford 80 tons, but can afford 180 tons of weight after being fully functional. He said that he have visited England for these bridges He said that FWO gave the lowest tender and said that the road contract was dear to us that we were pleased with the prosperity of the people of Gilgit-Baltistan.
The purpose of FWO was to facilitate the lives of people in remote areas, I understand that FWO was made for Gilgit-Baltistan, so its name should have been the Gilgit-Baltistan Work Organization. He said that the construction of the tunnel was not included in the actual contract but 3 small and one large tunnel is also being constructed. The construction of a large tunnel will reduce the distance of 42 kilometers between Jaglot and Skardu. DG FWO said that Skardu Road quality will be like Switzerland's highways.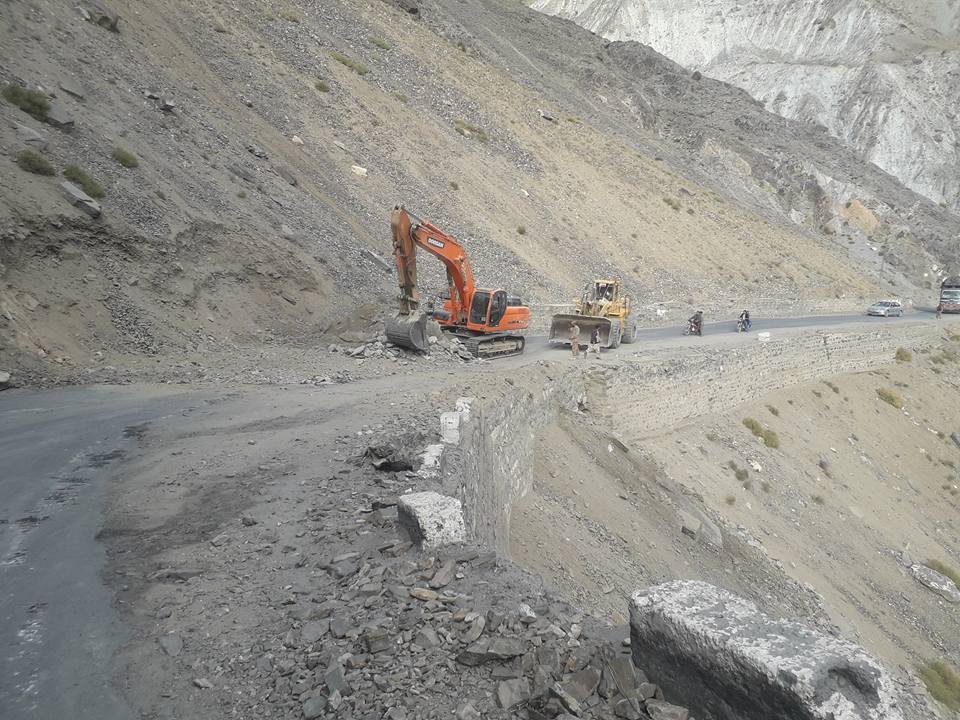 After completion of the road construction, the journey from Skardu to Gilgit will be reduced by 2 hours, in answer to the questions of journalists, DG FWO said that the compensation of lands will be paid by NHA. He said that he is personally monitoring the construction works of Gilgit Skardu Road, every day, the government sees the road, he said that government didn't provide funds ,so we managed ourselves and are moving forward with full preparation so that there is no delay in the completion of the road. It would be faster than ever before, but there were some difficulties due to some technical reasons that were dispatched by the federal cabinet. He said that our enemy is doing negative and baseless propaganda against Jaglote Skardu Road.